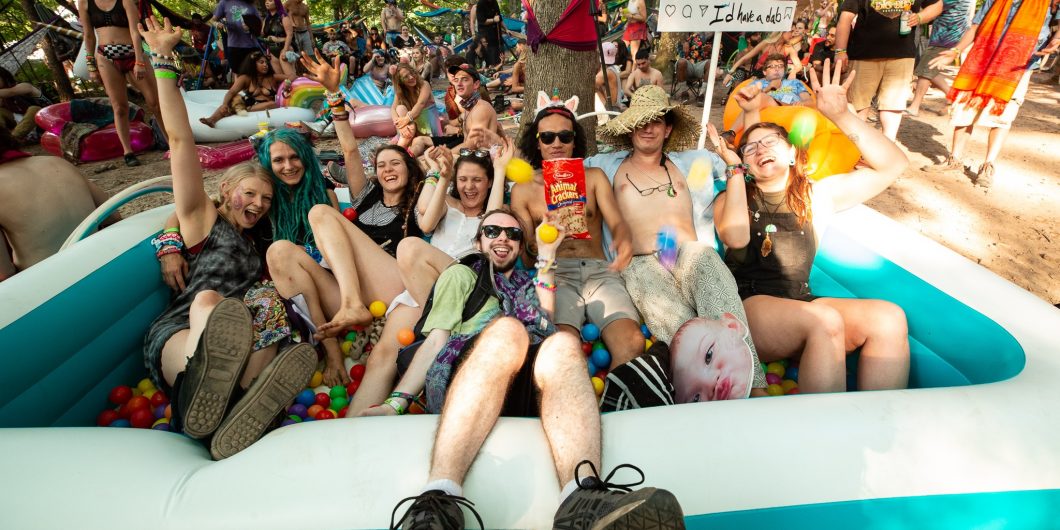 Where To Camp
Big Dub is a camping festival in Pennsylvania that features dubstep, bass music, and other forms of EDM. It has three camping areas which all have their own individual ticket type.  These ticket types only dictate where your place your tent.  You are free to roam around the festival and visit each of the sites during your time on the mountain.  Each camping area has a specific capacity which must be adhered to in order for us to properly control capacity, avoid overcrowding, and properly control traffic.
CAMPING AREAS EXPLAINED
Main Camp: Located at the heart festival, these camping spaces are right near all of the main stages! Patrons choose this because it is in the heart of the action. If you seek a quiet late night experience or value sleep then we recommend looking at New Camp or Hilltop as things can get a little wild in Main Camp! Parking for Main Camp is about .9 mile away in Hilltop which you can access via shuttle between 10am each day until 2-3am each night (depending on demand). Main Camp does not offer car camping as an option nor is there anywhere to park your car within the camp. Main Camp attendees will park in the General Parking lot which is shared with Hilltop campers and located adjacent to Hilltop. You may unload your vehicles directly at your campsite from 10am – 8pm on Tuesday or Wednesday or until noon on Thursday but then you will drop your car off at Hilltop and walk or shuttle back.
New Camp: Only 60 second walk to Main Camp as it connects to Main Camp by foot bridge. It's about 5-7 minutes walk from the bridge to any of the main stages! This campsite has it's own check-in location separate from the regular Four Quarters check-in address. Car Camping is available via an add-on option. New Camp has a chillout stage & hammock haven as well as two camping zones: The Old Forest which is a shaded area in the woods and The Great Meadow which is an open field that has a gorgeous view of the stars. While it does have some action, it is a great place to escape the constant action of Main Camp.
Hilltop Camp: This camping area has an Activity Area which features a 31ft long slip & slide, laser tag, theme camps, the giant KikiWawa, a labyrinth, and a gorgeous view of the surrounding mountains. This area is also located directly next to parking for easy access to your vehicle. It may seem far from the action of Main Camp but there are multiple shuttles that run to/from Main Camp at about 11am each morning to 2-3am each night (depending on demand). It is also just an 8 minute walk from Hilltop into Main Camp. This is also the best option for anyone who is doing Big Dub on a budget as there is significant savings in ticket price. Parking is also located adjacent to Hilltop which gives you an easy way to access your car.
CHECK-IN INFORMATION
Main Camp & Hilltop – Main Gate Check-in at 190 Walker Ln
New Camp – New Camp Check-in off Rt-26 (Clear Ridge Road)
Frequently Asked Questions
Q: I have a New Camp ticket and my friends have Hilltop. They are arriving with me – what do I do?
A: Your friends will need to be dropped off at the Main Gate to register while you proceed to check in at New Camp. Make sure your friends are aware that there is no transportation into camp from Main Gate & they will have to walk. We recommend changing your plans if need be based on what is most important to you.
Q: I'm driving my friends to the festival. All of us have Main Camp but one of them has Hilltop. What do we do?
A: All of you will check in at the Main Gate. The friend who has a Hilltop wristband will not be permitted to ride into Main Camp with you while you set up your camp. A security guard will stop you on the road before you pass Hilltop into Main Camp to check your wristbands and require your friend to exit the vehicle.
Q: I have a Main Camp ticket but all of my friends have purchased tickets to Hilltop and I want to camp with them. What can I do?
A: Hilltop is not at as big of a risk for overcrowding and there is no regulation against someone with a Main Camp ticket to camp in Hilltop. Tickets for the festival are non-refundable however so there would be no compensation for switching from Main Camp to Hilltop, but it would resolve your problem. Otherwise you would camp in Main Camp while they camp in Hilltop.
Q: What is the best place to camp?
A: Everywhere! Four Quarters is magical and each camping area has it's own personality. Think about what is important to you!
Determining where to camp:
– Do you like peace & quiet at night? Consider New Camp or Hilltop
– Do you want car camping? Choose New Camp
– Do you want to be in the heart of the action & don't mind camping in a densely populated location with a lot of activity? Choose Main Camp
– Do you want to be close to the action but want quiet at night? Choose New Camp
– Do you want to be close to activities, close to parking, and don't mind a quick shuttle ride into Main Camp? Choose Hilltop.
– Are you limited on funds? Choose Hilltop.