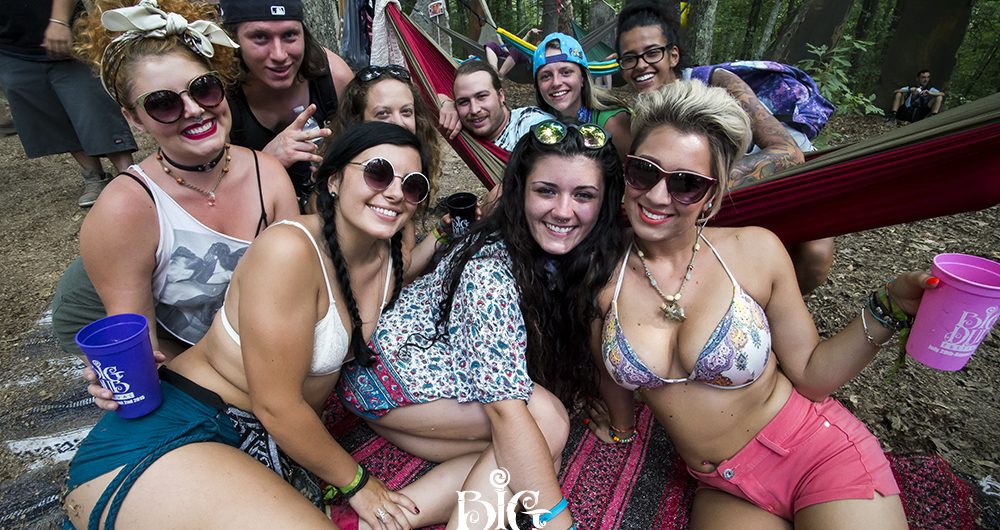 First Timers Guide to Big Dub
Big Dub is a camping festival featuring dubstep, EDM, and other forms of bass music in Pennsylvania.  It is full of amazing energy, good vibes, and smiles with a community designed to make friendships that last far beyond the reaches of the mountain.  Being prepared for your first time will help you to know what to expect and will lead to having a fantastic time.  Here is EVERYTHING you need to know.
WHERE TO CAMP
Every campsite is amazing and unique in it's own way.  Which site to choose relies entirely on your preference as one is not considered better than the other.  Learn where to camp when you CLICK HERE 
PACKING LIST/SURVIVAL GUIDE
Nothing is worse than not being prepared.  We have a full packing list to help you prepare for anything.  Some CRITICAL notes include having a flashlight, poncho, extra clothing especially socks, a plastic bag to store your clothing in, a way to waterproof your tent, and solar lights to hang on your tent.  Never carry large sums of cash either and always keep expensive items locked away in your car.   CLICK HERE for the full packing guide.
FITTING IN WITH THE CULTURE
Big Dub is not like any other festival.  There is a large part of it that is a music festival but there are other parts that rely on inclusion, participation, and an open mind.  You'll get the best out of the festival if you moderate the way you party and experience open connections with other attendees.  Some of the best ways to create these connections is to attend the activities and workshops.  Find something that you may enjoy and plunge into the experience.  Take the time to find this energy balance before you start partying each day.  CLICK HERE to read our core principles that we require the fam to know & to practice.
GETTING AROUND THE FESTIVAL
The festival has various elevation changes as Main Camp is located in a valley, Hilltop is a summit, and New Camp is located in a valley across the river which has a bridge that connects to the "Big Bottom" of Main Camp.  Shuttles provide service between Hilltop, the Main Stage/Stone Circle, and The Big Bottom of Main Camp.  There is a steep grade to get from the camping areas of Main Camp to the Stone Circle and Pavilion stages which can be a workout if going up & down frequently.  If choosing to walk:  the distance from Hilltop to central Main Camp (Stone Circle/Vendor Village) is .7 miles which is about a 10-12 minute walk.  The distance from New Camp to central Main Camp (Stone Circle/Vendor Village) is .5 mile which is about an 5-7 minute walk.  To get from New Camp to the Big Bottom (largest camping area of Main Camp) is about a 3-5 minute walk.
SAFETY/SECURITY
The festival has security in every major area with patrols taking place in non-major areas.  Security is there for the safety of patrons and to ensure no violations of our policies.  If you need to report a problem you can go to any member of staff.  The info booth is a great central location to report any issues, but there are multiple security and EMS outposts throughout the festival, especially in the Big Bottom and North Crook areas.  We also always advise to ensure you get enough water and electrolytes throughout each day.  75% of our medical issues are from people whose electrolytes are depleted.  Electrolyte depletion & dehydration are also the top causes of seizures at most festivals.
LIGHTING & TENT OBLIGATIONS
It can get dark on the mountain and, being a medium-sized festival, it is difficult to light every traffic or camping area completely. It is critical that you carry a flashlight in the evening hours. It is also critical to have an LED rope light set up for your tent so that you can find it at night as well as protect others from tripping or falling into your tent. LED rope lights are less than $30 and have battery powered options.
WHAT TO EXPECT
The best way to experience the festival is by being there the whole time.  Tuesday arrival is greeted with a lowkey night with several activities like drum circle, a massive video game happy hour with local DJs, open burn for fire spinners, a midnight LED flow session, and some theme camp activities.  Tuesday is the prime arrival day and is best for those who wish to claim the best camping space, get set up, and meet neighbors. Wednesday is when activities start to pick up, including two of the secondary stages opening for music with silent disco taking place at the Pirate Ship after dark.  Weather depending, this is also a day where "Big Dub Orientation" is held.
Thursday is the first full-swing day when all stages are open for music, theme camps are all open, and activities are found everywhere.  Friday is a continuation of this.  Saturday is the finale night.  Activities start to thin out by the afternoon as the focus on Saturday is often at the stages, most of which are full all day long.
Important to note:  Stone Circle stage closes at 11pm Thursday and midnight on Friday/Saturday.  This is due to a noise ordinance of our own construct.  We strive to keep the neighbors happy so that we can come back every year.  So we encourage people who want to enjoy music to the fullest to give their attention to the Stone Circle stage while it is open.  The other stages stay open afterhours but at a reduced volume, again to keep the community happy and at peace.
SANITATION/BATHROOMS/DRINKING WATER
The venue has two shower houses with bathrooms.  These are part of the venue infrastructure.  The longest wait time is the main shower house which can range from 10-20mins from 1am-am and 30min to 2hours from 9am-1am .  The fastest wait is at the lower shower house near North Crook which never takes more than 20-30minutes at peak demand.  This shower house is fully open which can be a hurdle for some people to overcome, but you'll find that the community is respectful of one another and most find that showering openly is rather liberating.
Portajohns are also available throughout the festival and unlike most competing events, we have a team that works all day long to keep them clean.  They are professionally pumped out daily as well.  Every area that has bathrooms also have handwashing stations.  Be smart and use them.  Sanitizing your hands will not prevent all germs, in fact most viruses simply become emulsified in the gel and can spread easily.
Drinking water is supplied through spigots throughout the property.  After having an issue in 2017 with an old well, the venue has put it completely out of order and a new well was drilled that same year.  This well was tested and approved by the PA Health Department and CDC and provides fresh, potable water throughout the entire site.  We encourage all patrons to bring their own bottles of water if safety is of any concern.
THE FUCKING CATALINA WINE MIXER
The Catalina Wine Mixer is one of the biggest mini-parties within the festival which generally only lasts about an hour or two.  This can be dangerous if you do not understand the implications of your decisions.  For every bag you slap you're likely ingesting 1/2 glass to 1 full glass of wine, conservatively speaking.  Most people start to get intoxicated off of just a couple glasses of wine.  Please keep your limits in mind when attending & as always, be sure to get plenty of electrolytes in your system both before and after.  Gatorade is NOT the perfect substitute for electrolytes.  Eat some bananas (or better  yet, avocados) and take in PLENTY OF SALT.  The human body typically needs anywhere from 4-6g of salt a day to properly function and nearly 4000mg of potassium (there's only 90mg in a banana  and 750-900mg in an avocado or cup of lentils).  We also recommend filling up empty wine bags (you can get on Amazon) with Gatorade to not only help yourself stay hydrated but also help others!
GATE TIMES, AGE REQUIREMENTS, PROHIBITED ITEMS, AND SERVICE ANIMAL POLICY
Please familiarize yourself with everything on the info tab of our webpage when you CLICK HERE