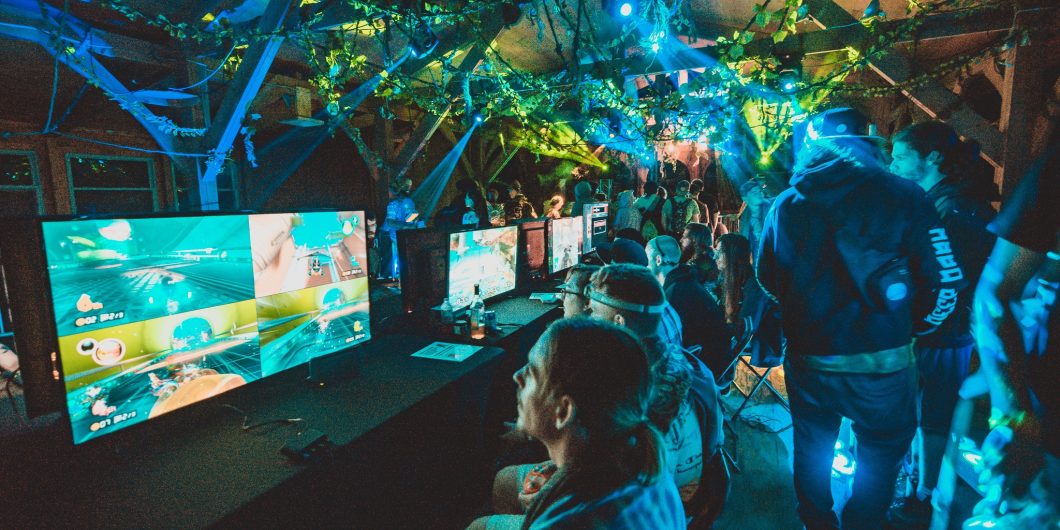 Hi-Score Video Game Lounge
Hi-Score is a gamers paradise, integrating live music with a fully decorated video game lounge that features over 300 games with 18 consoles. You can expect to find some of your favorite games such as Mario Kart, Super Smash Bros, Fortnite, Call Of Duty, Golden Eye 007, and more!
Bracketed tournaments will also be announced soon with cash prizes as well as cosplay pageants!
A full list of games & consoles can be found below.
FULL GAMES & CONSOLES LIST
3 x Nintendo Switch
15 x Gamecube Controllers
Contra
Cuphead
Kirby Star Allies
MArio Kart 8 Deluxe (x2)
Mario Tennis Aces
Super Mario Party
Super Smash Bros Ultimate (x2)
1 x PS5
Call of Duty Warzone
Overwatch
Fortnite
1x Xbox Series X
4 x PS4
12 x PS4 Controllers
Anthem
Borderlands 3
Borderlands Deluxe Edition
COD Warzone
Call Of Duty Black Ops 4
Destiny 2
DragonBall FighterZ
Fallout 4
Farpoint
Fifa 19
Fortnite
Madden 19
Mortal Kombat 11
NBA 2k19
NHL 19
Overwatch
Red Dead Redemption 2
Resident Evil
Rocket League
Skyrim
Soul Calibur 6
Street Fighter V AE
Tekken 7
1 x PS Classic
2x Ps Classic Controllers
Battle Arena Toshinden
Cool Boarders 2
Destruction Derby
Final Fantasy 7
Grand Theft Auto
Intelligent Qube
Jumping Flash
Metal Gear Solid
Mr Driller
Oddworld: Abe's Oddysee
Rayman
Resident Evil Director's Cut
Revelations: Persona
Ridge Racer Type 4
Super Puzzle Fighter 2 Turbo
Syphon Filter
Tekken 3
Tom Clancy's Rainbow Six
Twisted Metal
Wild Arms
1 X SNES Classic
2 x SNES Classic Controllers
Contra III: The Alien Wars
Donkey Kong Country
Kirby Super Star
Kirby's Dream Course
Secret of Mana
Street Fighter II Turbo: Hyper Fighting
Super Mario Kart
Super Mario World
Final Fantasy III
Super Castlevania IV
EarthBound
F-ZERO
Mega Man X
Star Fox
Star Fox 2
Super Ghouls 'n Ghosts
Super Mario RPG: Legend of the Seven Stars
Super Metroid
Super Punch-Out!!
The Legend of Zelda: A Link to the Past
Yoshi's Island
1 x NES Classic
2 x NES Classic Controllers
Balloon Fight
Bubble Bobble
Castlevania
Castlevania II: Simon's Quest
Donkey Kong
Donkey Kong Jr.
Double Dragon II: The Revenge
Dr. Mario
Excitebike
Final Fantasy
Galaga
Ghosts'N Goblins
Gradius
Ice Climber
Kid Icarus
Kirby's Adventure
Mario Bros.
Mega Man 2
Metroid
Ninja Gaiden
Pac-Man
Punch-Out!! Featuring Mr. Dream
StarTropics
Super C
Super Mario Bros.
Super Mario Bros. 2
Super Mario Bros. 3
Tecmo Bowl
The Legend of Zelda
Zelda II: The Adventure of Link
1 x PS3
2 x PS3 Controllers
Call of Duty Modern Warfare Trilogy
Crysis 2
Gran Turismo 5
Homefront
Mortal Kombat Komplete Edition (Greatest Hits)
Need for Speed Carbon
PES 2009 Pro Evolution Soccer
Tiger Woods PGA Tour 08
Uncharted (Drake's Fortune)
2 x PS2
2 x Guitar Hero Controllers
4 x PS2 Controllers
2x Memory Card
Ben 10 Alien Force
Ben 10 Protector of Earth
Call Of Duty World at War final fronts
Crazy Taxi
DDR Max 2
DDR Max Dance Dance Revolution
Dance Dance Revolution Extreme 2
Fifa Soccer 09
Fifa Soccer 10
Grand Theft Auto III
Guantlett Dark Legacy
Guitar Hero II
Guitar Hero III
Guitar Hero Rocks the 80's
King of Red
LLord of the Rings The Return of the King
Lego Star Wars II
Lego Star Wars: The Video Game
MAdden 09
MLB Baseball 2k9
NBA 2K9
NCAA Football 10
NCAA Football 2003
NCAA Football 2005
Naruto Ultimate Ninja
Naruto Ultimate Ninja 2
Naruto Ultimate Ninja 3
Smack Down Vs Raw 2007
Smackdown Vs Raw 2006
Socom II US Navy Seals
Sonic Unleashed
Spiderman Friend or Foe
Tekken 4
Terminator 3 The Redemption
The Legend of Spyro The Eternal Night
Turok Evolution
Twisted Metal 4
Ultimate Spider Man
Virtua Fighter 4
Yu Gi Oh Capsule Monster Colluseum
Yu Gi Oh The Dueslets of the Roses
3x N64
12x Controllers
1x Memory Card
007 The World is Not Enough (2x)
1080 Snowboarding (2x)
Army Men Sarge's Heroes
Banjo Kazooie
Diddy Kong Raciing
Donkey Kong 64
Goldeneye 007
Kirby 64 The Crystal Shards
MArio Party
Major LEague Baseball featuring Ken Griffey Jr
Mario Kart 64 (2x)
Mario PArty 2
NBA Courtside 2